Hey friends, I feel like I've been away from the blogosphere for so long...I was in a bit of a personal rut and lacked all inspiration. I'm battling the bad vibes and trying to get back to a good, creative, motivated place.
As Flaubert so brilliantly put it, one should "be regular and orderly in your life, so you be violent and original in your work."
So I am resuming painting regularly--a goal perhaps of one painting every week?
I have taken up playing the bass guitar. My dear friend, Greg, loaned me his extra bass that was laying around the studio and showed me all the notes last night. I cut my nails and cowgirled up, noodling through all the initial bad notes and new fingertip callouses.
I set up my actual office/studio at our house, which mean every morning I can come back here and have some sort of creative space to start my day.
And I am trying to start dragging myself to the gym again (and REALLY trying to convince myself I love it.)
So today...a little shopping!
There are two things I want really, really, badly right now and both are jackets. The first is a studded leather jacket. I'm not really one for the punk aesthetic, but I think there is something so sexy and, bear with,
refined
about a well-fitted, tastefully designed leather jacket with a few embellishments. I personally prefer the large, flat studs because they're the ironic, "softer" sisters of the stud family, but a well-proportioned pyramid stud would work for me, too.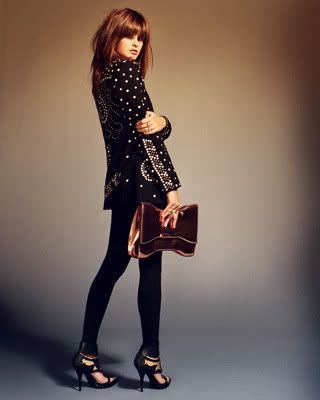 left: Jacket by Religion. Photo from
Stellar Magazine
.
right: Jacket by Topshop. Image from
Fashionista At Play
.
And, this, the greatest studded jacket in the land---Karen O's (of the Yeah Yeah Yeahs) leather jacket, designed by
Christian Joy
. Revel in its awesomeness. Seriously. (Image from
ArchiveVintage
.)
The second thing I want is a military, Sgt. Pepper-style jacket. It's kind of snarky and incredibly chic.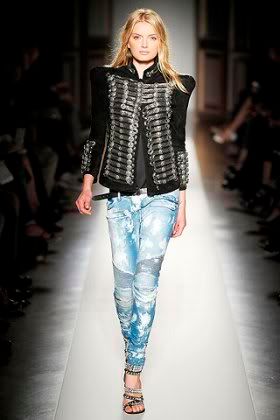 left: Balmain Military Style Denim Jacket. From
net-a-porter
.
right: Another Balmain. Image from
Jewel-And-Jewel
.
All right people. That's it for this morning. See you tomorrow! (And it's good to be back!!)